10 ton diesel forklift truck with high-security LT5100 product feature
— Optional allocation of a variety of high-quality power, equipped with engine electronic control technology, can protect the engine in many ways, to ensure the safe operation of the engine.
— Load sensing and dual pump hydraulic system technology are adopted to improve the operation efficiency and reduce the overall energy consumption.
— The super large capacity aluminum tube belt radiator and optimized heat dissipation channel further improve the heat dissipation capacity of the vehicle.
High security
— Equipped with wide-field portal frame system and wide-angle rearview mirror, to provide a good working field of vision for drivers.
High comfort
— Standard diameter 300mm steering wheel, assist system, lightness control, reduce driver fatigue;
— It adopts an optimized cover system and hood locking mechanism. The hood is flexible and convenient to maintain.
Rich options
ISUZU engine, high exhaust device, air prefilter, fireproof cap, solid tire, two-stage free lift mast, three-stage free lift mast, widening fork frame, fork sleeve, side shifter, paper roll clamp, bale clamp, carton clamp, block clamp, rotators, drum clamp, push-pull, etc.
10 ton diesel forklift truck with high-security LT5100 parameters
Model
UNIT
LT550
Specifications
Power Unit
Diesel
Operator Type
Driver/Seat
Transimission Box Type
Electronic hydraulic transmission
Rated Capacity
kg
5000
Load Center
mm
600
Max.Lifting Height
mm
3000
Tire Type
Pneumatic Tire
Tire Number
Front
4
Rear
2
Tire Size
Front
8.25×15-14PR
Rear
8.25×15-14PR
Performance
Lifting Speed
Loaded
mm/s
450
Unloaded
500
Lowering Speed
Loaded
mm/s
500
Unloaded
450
Travelling Speed
Loaded
km/h
25
Unloaded
30
Max.Gradeability (Loaded)
%
33
Max.Drawbar Pull (Loaded)
kg
5500
Mast Tilting Angle (Fwd/Bwd)
deg
6/12
Free Lifting Height
mm
145
Turning Radius
mm
3250
Dimensions
Overall Length (with fork)
mm
4715
Overall Width
mm
2000
Overhead Guard Height
mm
2480
Fork Size (LxWxT)
mm
1220x150x55
Mast Height (Fork lowered)
mm
2500
Battery (Voltage/Capacity)
V/Ah
2×12/90
Truck Weight
kg
7900
Fuel Tank Capacity
L
135
Engine
Brand
ISUZU
CHAOCHAI
Model
6BG1
6102
Rated Power
kw/rpm
82.3/2000
80.8/250
Rated torque
n-m/rpm
418/1500
354/1650
Number Of Cylinder
6
6
Displacement
6.49
5.78
10 ton diesel forklift truck with high-security LT5100 products details
1. Wide view mast, with visibility increased to enhance the operator's view and safety.
2. High strength safeguard/cabin by profiled steel insert all around keep the driver safer.
The mast rails are positioned
To create a wider forward view of the fork tips and the load. Large rollers roll more freely under load and side thrust rollers provide added lateral support especially in wide load applications. Both load rollers and thrust rollers are externally adjustable to maintain mast and carriage alignment and, reduce labor costs. Hydraulic hoses are positioned behind the rails for protection and enhance forward visibility through the mast.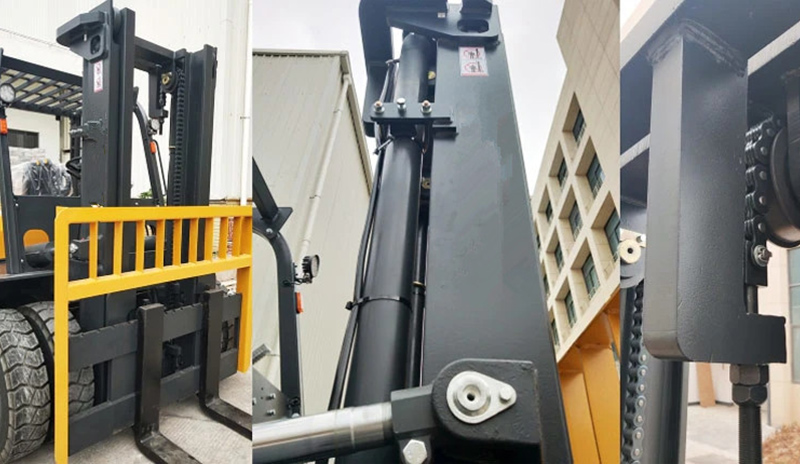 Luxury driver's operating seat, more space, more comfortable, reduce driver fatigue.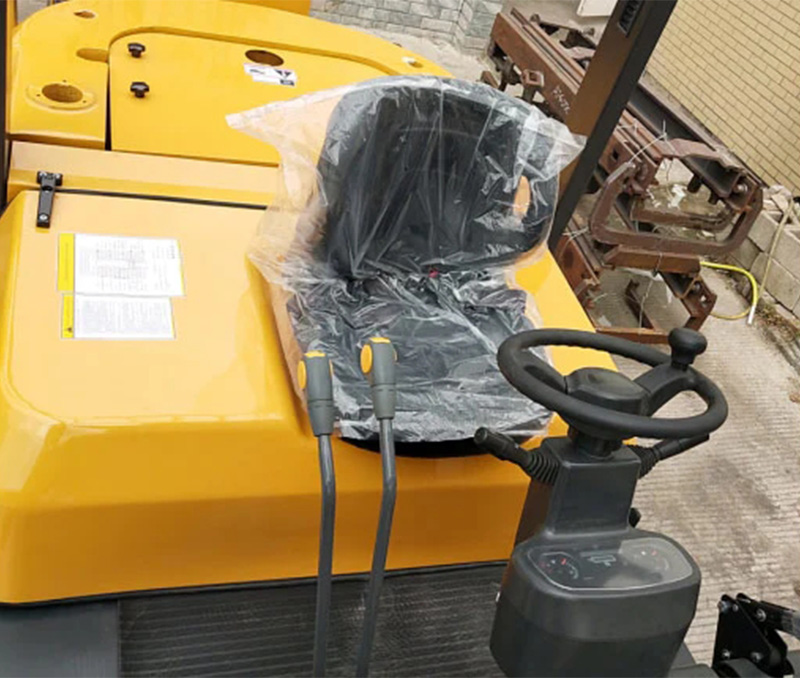 The lighted instrument
The panel is conveniently positioned relative to the operator's line of sight. The LCD monitors the machine's vital components and electrical systems including travel speed and operating time. The monitor with an integrated diagnostic system provides easy service and lower maintenance costs. The advanced design wiring harness uses waterproof connectors and an enclosed multiunit fuse module for improved circuit security and reliability.
Premium hydraulic hose
Fittings and steel tubes are vital to operator safety and load handling. All hydraulic cylinders use premium seals eliminating leaks and pressure loss. The main lift cylinder has a lowering speed valve to avoid rapid decent should a pressure loss occur in the lifting system. A fully adjustable steering wheel allows multiple operator sizes and added comfort. Power steering provides precise control and easy maneuverability in confined spaces reducing operator fatigue and stress.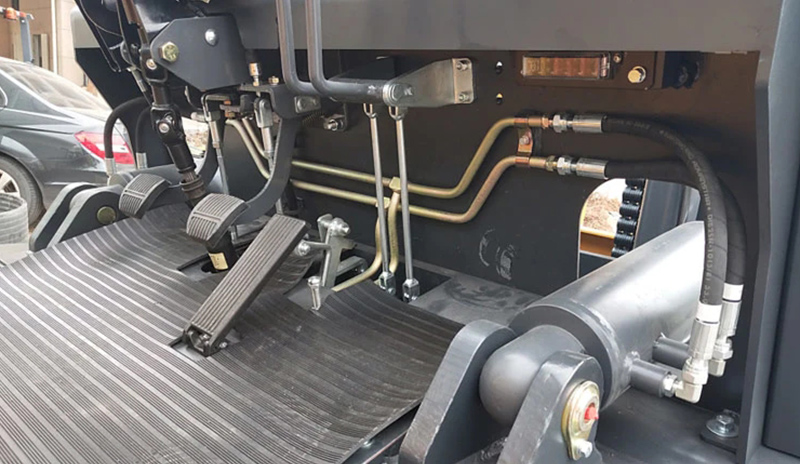 Application and after-sales service
LT5100 is an industrial handling vehicle for loading, unloading, stacking, and short-distance transportation of goods. Widely used in mechanized loading, unloading, stacking, and short-distance transportation of stations, ports, airports, factories, warehouses, and other departments.