32-ton large single tilt lever forklift loader LT32t-i product feature
1.Powerful engine:
Weichai Engine, strong power, energy conservation, and environmental protection. Cummins engine, Shangchai engine is optional.
2.Hydraulic systems:
To adopt confluence of dual-pump confluence and diffluence technology, rational use of engine power, reduce energy consumption effectively. Independent transmission oil and hydraulic oil cooling improve the hydraulic system stability.
3.Steering system:
Increase the steering cylinder, octagonal cylinder arrangement design, improve the steering stability of the vehicle.
4.Humanized design:
With joystick, professional air conditioning, Cab heightening design creates a comfortable operating environment. Effective operation.
5.Safety:
Designed the CTCS (Constant temperature cooling system). The brake system adopts a constant temperature cooling device with independent research and development patent technology to ensure stable, safe, and reliable braking.
6.Structural parts:
The comprehensive steel plate is thickened, the height of the chassis off the ground, and the departure angle is increased and it is suitable for various harsh environments. It is easier to mine the materials and stabilize the operation. The double rocker arm structure produces a larger excavation force, and the Z-form structure specially designed for stone working conditions has a strong bearing capacity.
7.CAB:
With the broad view, noise-isolation and vibration absorber meet all kinds of operation, which can be dismantled for large space. Radio with MP3 function and speaker, the joystick control system(Optional) ensure easy operation and more comfortable.
32-ton large single tilt lever forklift loader LT32t-i product parameters
LT32T-I
Base parameter
Operating weight
34500KG
Rated load
32000KG
Engine
Engine model
Weichai WD10G270E21 (Tie II)
Rated power
199KW
Rated rotate speed
2200rpm/min
Max. torque
1100N. m
Performance parameters
Max. Gradeability
25°
Max Turning angle
35°±1
Total
≤13.7s
Grade ability
≥25°
Forward I
0-6.5km/h
Forward II
0-12.3km/h
Forward III
0-24km/h
Forward IV
0-41km/h
Reverse I
0-6.5km/h
Reverse II
0-12.3km/h
Reverse III
–
Overall dimensions
Overall length
10100mm
Overall width
3130mm
Overall height
3730mm
Track base
2510mm
Wheelbase
4300mm
Max. dumping height
3100mm
Fork dimension
1600x250x120mm
Other
Tire type
26.5R25/26.5-25 OR 29.5R25/29.5-25 (optional)
32-ton large single tilt lever forklift loader LT32t-i product details
Details 1
JOOMACH uniquely designed hydraulic pipeline layout, the layout of hydraulic pipelines is reasonable, and the whole row is beautiful, reducing the energy loss of the hydraulic system and providing efficiency.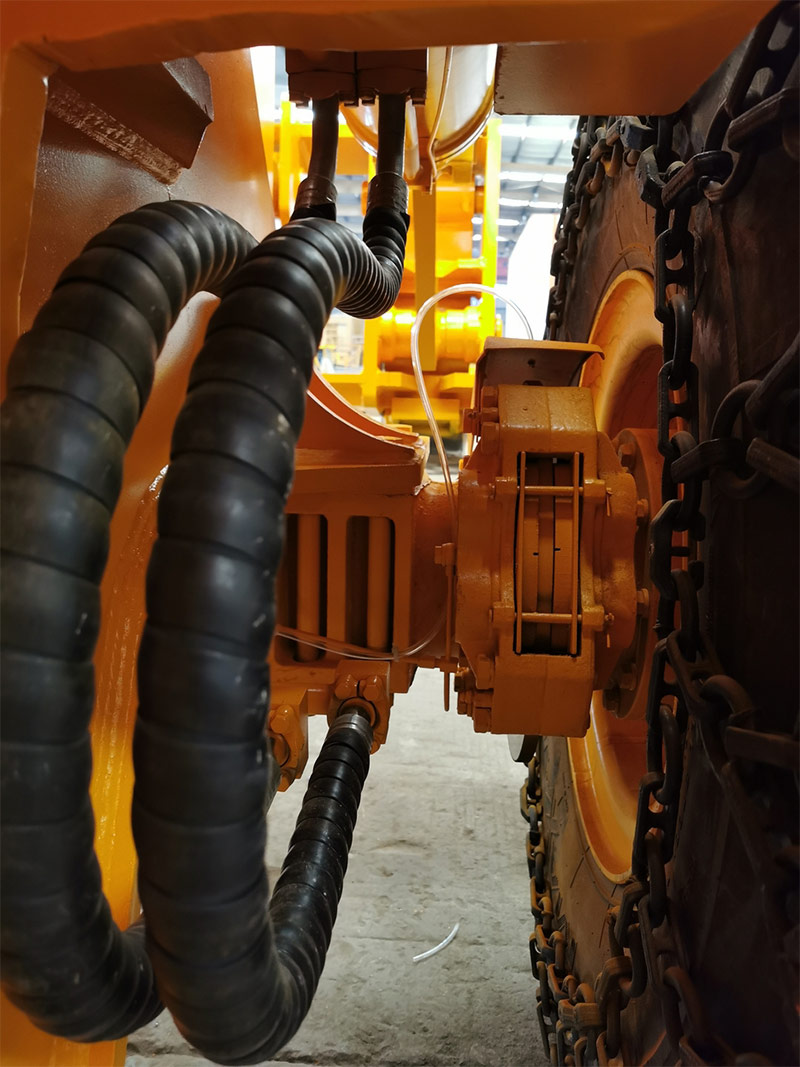 Details 2
JOOMACH's self-made high-reliability reinforced front and rear axles increase the anti-overload capability by 50% and the anti-torsion capability by 20%. They also add brake disc protection plates to protect the braking system.
Details 3
JOOMACH exclusive custom loader tires, high reliability, endurable, and more overload capacity.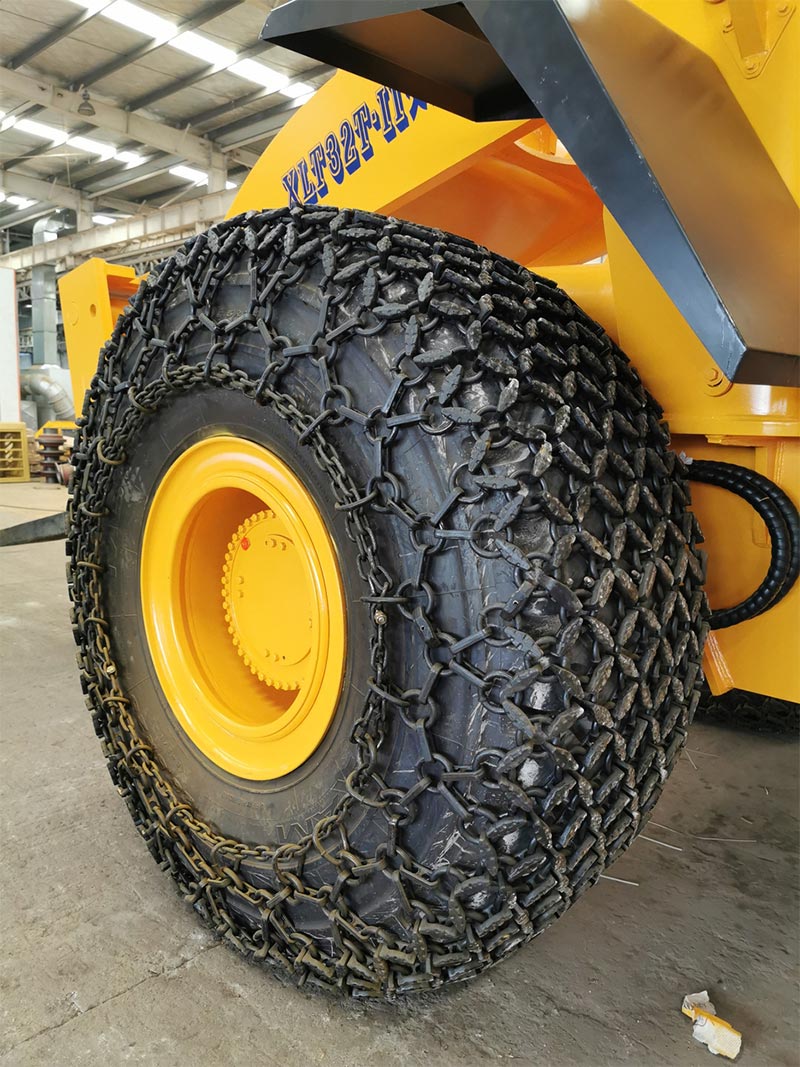 Details 4
Luxury driver's cabin, more space, wider visual field.
Application and after-sales service
LT32T is mining stone operation equipment for earthmoving machinery and is also widely used in the operation of terminal block logistics.