3-ton small LPG forklift truck LT530T produc feature
1. High Quality
(1) Adopt gradeability improving style electronic hydraulic transmission,compare with other models:efficiency 5% improved,climbing torque 8% increased,noise 3~5dB reduced,thermal equilibrium temperature 8-10°decreased;
(2) The super large capacity aluminum tube belt radiator and optimized heat dissipation channel further improve the heat dissipation capacity of the vehicle;
(3) Load sensing priority steering hydraulic system is adopted to reduce pressure loss of the hydraulic system, save energy and improve operator comfort.
2. High Security
(1) Introducing advances technology from Germany, the unique single chain has greatly enhanced the front view.
3. while working
(1) All car LED lights, high brightness, long life, energy-saving, and environmental protection.
High Comfort;
(2) The new suspension system, adjustable seat, allowing the driver to feel more comfortable and reducing fatigue during long operations;
(3) The combined color instrument has strong human-machine interaction and timely and accurate feedback on the running state of vehicles;
(4) Spacious control space, comfortable seats, enjoy the pleasure of riding.
4. Rich Options
High exhaust device, air prefilter, fireproof cap, solid tire, two-stage free lift mast, three-stage free lift mast, widening fork frame, fork sleeve, side shifter, paper roll clamp, bale clamp, carton clamp, block clamp, rotators, drum clamp, push-pull, etc.
3-ton small LPG forklift truck LT530T product parameters
Model
UNIT
LT530
Specifications
Power Unit
Operator Type
Transimission Box Type
Rated Capacity
kg
3000
Load Center
mm
500
Max.Lifting Height
mm
3000
Tire Type
Tire Number
Front
2
Rear
2
Tire Size
Front
28×9-15-14PR
Rear
6.5-10-10PR
Performance
Lifting Speed
Loaded
mm/s
480
Unloaded
500
Lowering Speed
Loaded
mm/s
420
Unloaded
400
Travelling Speed
Loaded
km/h
20
Unloaded
21
Max.Gradeability (Loaded)
%
20
Max.Drawbar Pull (Loaded)
kn
17
Mast Tilting Angle (Fwd/Bwd)
deg
6/12
Free Lifting Height
mm
150
Turning Radius
mm
2395
Dimensions
Overall Length (with fork)
mm
3800
Overall Width
mm
1240
Overhead Guard Height
mm
2145
Fork Size (LxWxT)
mm
1220×125×45
Mast Height (Fork lowered)
mm
2140
Battery (Voltage/Capacity)
V/Ah
12/90
Truck Weight
kg
4250
Fuel Tank Capacity
L
70
Engine
Brand
NISSAN
Mode
K25
Rated Power
kw/rpm
37.4/2300
Rated torque
n-m/rpm
176.6/1600-
Number Of Cylinder
4
Displacement
2.49
3-ton small LPG forklift truck LT530T product details
(1) comfortable
Toyota semi-closed seat and high-quality insulation attract sponge make operator comfortable and reduce fatigue.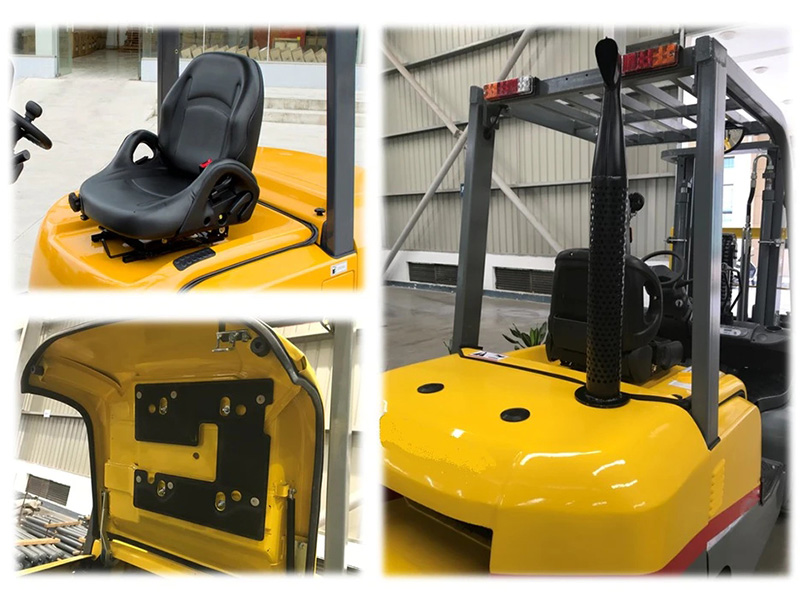 Powerful of Nissan dual fuel K25 engine, safe and reliable natural gas tank and easy to operate the dual-fuel switch.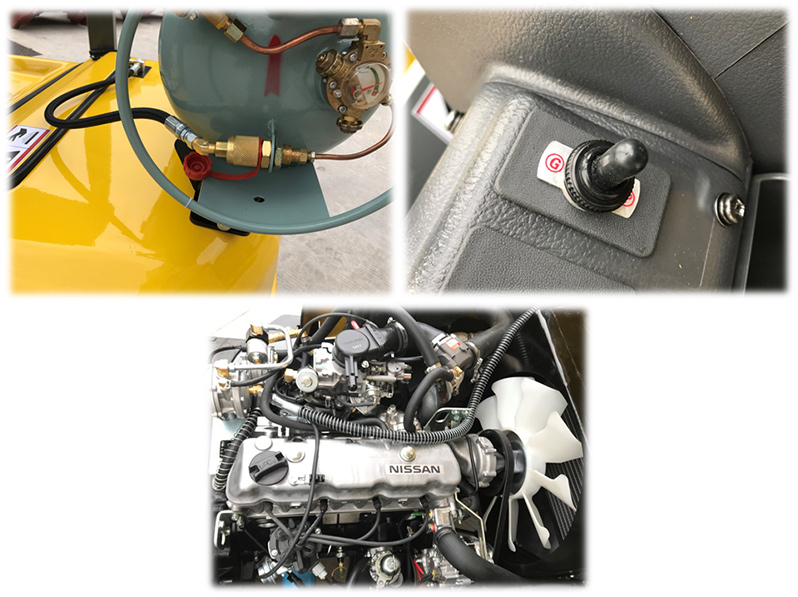 (2) Shifting is light and simple
A tilt oil cylinder is placed inside the frame to increase the maneuvering space. With electronically controlled shifting, shifting is light and simple. It adopts human-powered hydraulic braking, and rationally designs and operates the brake operating mechanism, which is light in operation, sensitive in response, safe and reliable, and equipped with micro-motion control to facilitate access to the goods.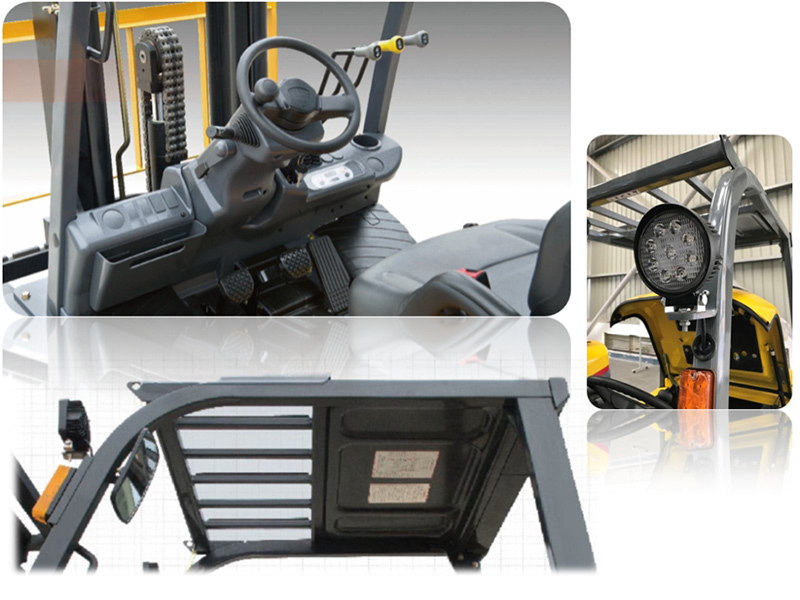 (2) Structure elucidation
Integral roof guard, profiled steel structure, high strength, and convenient configuration of the cab.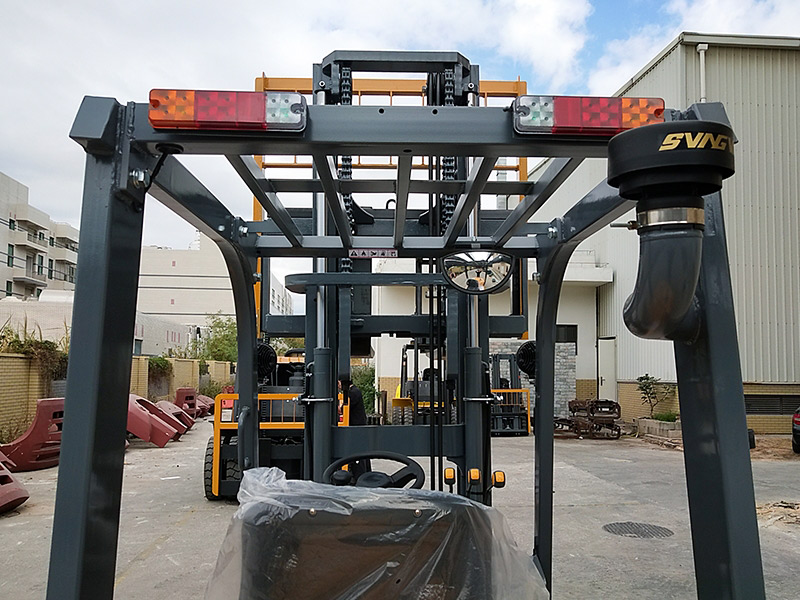 (4) Mast: Wide View & Durable
Wide-view mast provides excellent through-the-mast visibility improving the work efficiency and allowing safe operation of the forklift.
I beam rails and heavy tie bar construction reduce twisting while handling long, lateral loads on rough surface applications.
Application and after-sales service
LT530T is an industrial handling vehicle for loading, unloading, stacking, and short-distance transportation of goods. Widely used in mechanized loading, unloading, stacking, and short-distance transportation of stations, ports, airports, factories, warehouses, and other departments.