LT822-7 excavator features
Proven performance
Performance counts in every climate, on every job. We understand because we've been there in some of the most extreme conditions on the planet.
Reliability and efficiency
Everything you need in an excavator JOOMACH delivers. Power to handle the toughest conditions on-site. Reliability that gets the job done on time and within budget. Fuel and operating efficiencies that minimize operating costs.
Powerful strength
JOOMACH excavators power through the most challenging jobs with fuel-efficient and low-emission operations.
Powerful hydraulics for better operating efficiency
Increased availability and minimized service intervals
High-strength steel in the boom, stick, and bucket increases life by 30%
Highly durable materials for increased bucket and ground engaging tool life
Improved swing motor strength more than doubles component lifespan
High-quality electrical components throughout
Battery relay and throttle motor from trusted brands
Operator comfort and safety
Our spacious and ergonomically designed cab promotes operator productivity, comfort, and safety at every turn:
-Sleek ergonomic design
-Top-quality instrumentation
-Sound attenuated cab
-Automatic climate control
-Contoured high-quality suspension seat promoting operator comfort
-Driving speed
Parameters of LT822-7 excavator
MODEL
LT822-7
DESCRIPTION
Unit
Basic parameter
Bucket capacity
m³
0.5-1.2
Operating Weight
t
21.5
Engine
Firm
Doosan/ISUZU
Engine
Model
DE08/6BG1
Rated power/speed(Net)
kW/(r/min)
(110/1950)/(135/1950)
Working  range parameters
Boom
mm
5700
Arm
mm
2900
Maximum digging Radius
mm
9910
Maximum Digging Depth
mm
6630
Maximum Vertical digging depth
mm
6045
Maximum digging height
mm
9660
Maximum dumping height
mm
6810
Performance parameters of the whole machine
Max. excavating force(arm/bucket)
kN
97/136.2
Swing Speed
r/min
12.4
Travel Speed (high/low)
km/h
4.5/3.1
Grading  capacity
°/%
35°/70%
Noises at driver location
dB(A)
75
Overall  dimensions
Transport Length
mm
9510
Transport Width
mm
2990
Transport Height
mm
3030
Cab Height
mm
3000
Length of Shoe
mm
3645
Track Gauge
mm
2390
Shoe width
mm
600
Minimum Tail Swing Radius
mm
2750
          MODEL
LT822-7
More details of Joomach excavator
Joomach excavator is widely used in industrial and civil building construction and construction, transportation, water conservancy, and power engineering, mining, gardening, urban construction, cable laying construction, farmland use, pipeline excavation and buried, and mechanized construction in modern military engineering industries.
Engine
1. Tier II Engine
2. Three Work Modes
3. Automatic Idle Control System
4. Tri-stage Fuel Filtration
5. Alternator
6. Dual Element Air Filter
7. Oil Filter
8. Turbocharger with Charge Air Cooler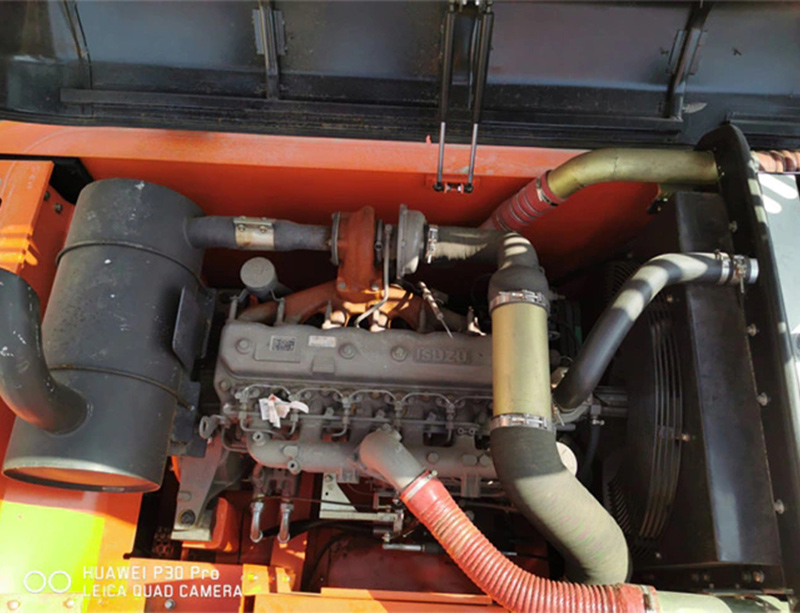 Hydraulic system
1. Power Boost Mode
2. Automatic Two-Speed Travel
3. Reduced-Drift Valve for Boom and Arm
4. Reverse Swing Dampening Valve
5. Bi-directional Double-Loop Hydraulic System
6. Pilot Operated Safety Check Valve
7. Safety Relief Valve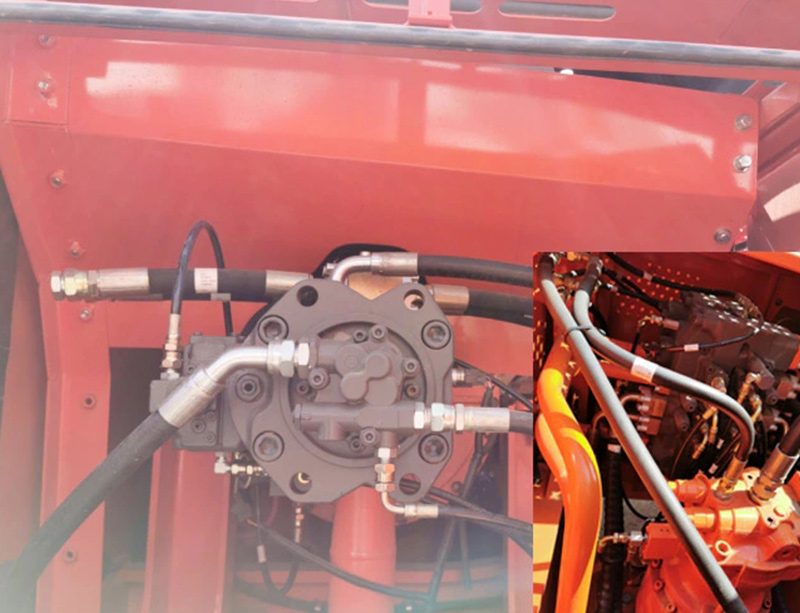 CAB
1. ROPS/FOPS (optional)
2. Removable Roof Window and Front Window
3. Emergency Exit Window
4. Removable Windshield within Cab Storage Bracket
5. Adjustable Seat
6. Cigarette Lighter
7. LCD Monitor
8. Auto Climate Control/AC/Heater/Pressurize
9. Windshield Wiper
10. 24V AM/FM Radio
11. 12V Power Outlet
12. Washable Floor Mat
13. Interior Part: Cup Holder, Interior Light, Hot/Cold Beverage Compartment, Storage Compartment, Seat with Storage Bag at the back.
Undercarriage and upper structure
1. Lashing Points
2. Heavy Duty Rollers and Idlers
3. Heavy Duty Track Guides (Center)
4. 5.7m Boom, 2.9m Arm, Bucket with Lift Hook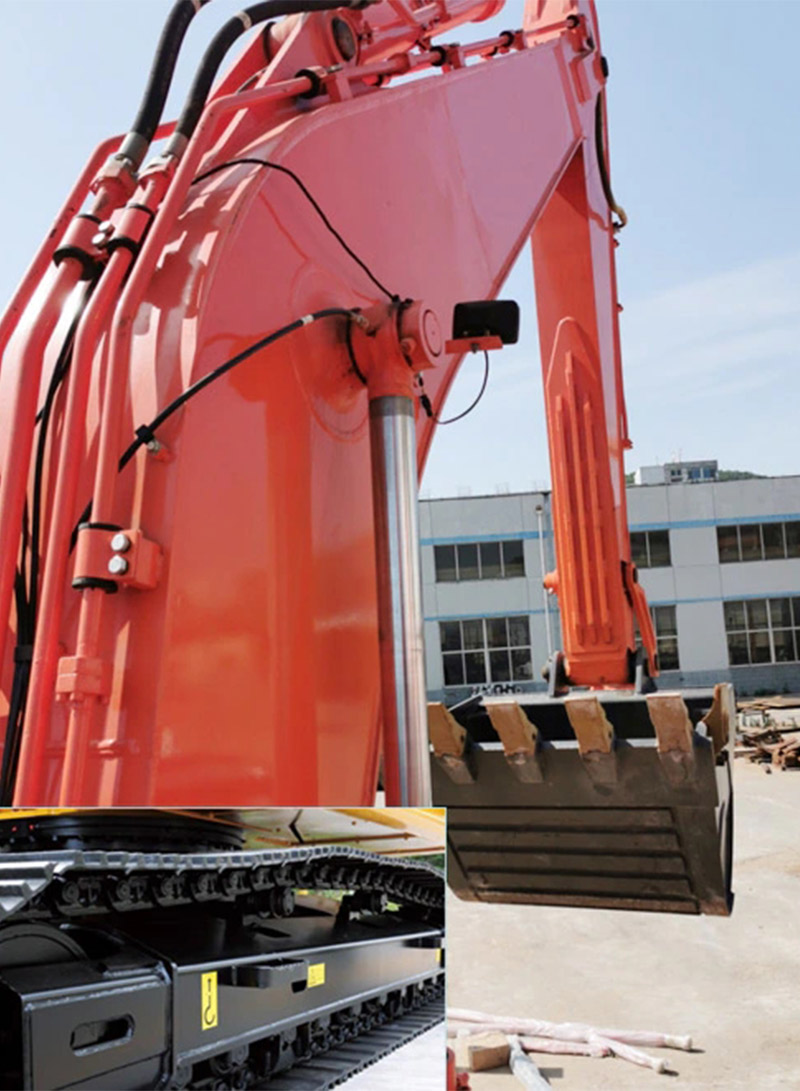 Application and after-sales service
LT822-7excavator is widely used in industrial and civil building construction and construction, transportation, water conservancy, and power engineering, mining, gardening, urban construction, cable laying construction, farmland use, pipeline excavation, and buried, and mechanized construction in modern military engineering industries.