Durable structures of mini wheel loaders
1.Adopt Perkins power to achieve Euro III emissions, energy-saving, and environmental protection.
2.A closed hydrostatic system with low energy consumption and high energy saving.
3.The unique hydraulic quick-change mechanism can meet users' multi-purpose operation needs.
4.The integrated multi-function joystick is easy to operate.
5.The adjustable combination instrument is practical and generous.
6.Unique frame hinges, compact and durable.
7.Adapt to a wide range of wide tires and shock-absorbing seats for safety and comfort.
8.The cover can be turned forward for easy maintenance.
9.Small working radius, flexible and flexible.
Mini wheel loaders offer rich options
Quick hitch for special needs, the standard bucket, standard bucket with an upper clamp, sillage cutters, feed measuring bucket, bale clamp, mowing deck, sweepers, paver installation system clamp, brick clamp, kerbstone clamp, brick clamp, tile fork, earth drill installation, stone bucket with inlay plate, manure fork with an upper clamp, pallet forks, etc.
Parameters of mini wheel loaders
LT906
Engine
Model
403D-15T
Rated  power
29.4KW
Rated speed
2800r/min
Max. torque
112N.m
Bore*Stroke
84x90mm
Displacement
1500cm³
Fuel consumption rate under calibration conditions
263g/KW.h
Dimensions
Total length with standard bucket
4330mm
Length of cab transportation position
4260mms
Total height without cab
1970mm
Height to top of the cab
2480mm
Total width
0-8km/h
Narrow tire-standard
1075mm
Wide tire-optional
1329mm
Wheelbase
1550mm
Minimum ground clearance
345mm
Track width
–
Narrow tire-standard
812mm
Wide tire-optional
939mm
Bucket width
1370mm
Radius at the outer edge
2541mm
Max. radius
3037mm
Total working height
3630mm
Max. height of bucket pivot
2950mm
Max. dumping height
2190mm
Dumping reach
630mm
Digging depth
150mm
Max. inclination angle
43°
Backroll angle on the ground
42°
Departure angle
22°
Max. dumping angle
32°
Total length without bucket
3550mm
Performance

parameters

Bucket capacity-standard
0.45m³
Rated load
600KG
Operating weight
2450kg
Operating weight without a bucket
2160kg
Total
8s
Travel speed
Forward I
7km/h
Forward II
18km/h
Reverse I
7km/h
Reverse II
 18km/h
Max. breakout force
 15KN
Max. grade ability
22°
Fuel tank capacity
70L
Hydraulic tank capacity
40L
Tire Spec.
Standard
Norrow tire:10-16.5NHS
Optional
Wide tire:31×15.5-15
Mini wheel loaders pictures and details
Details-1
Luxury driver's seat, more space, easy operating.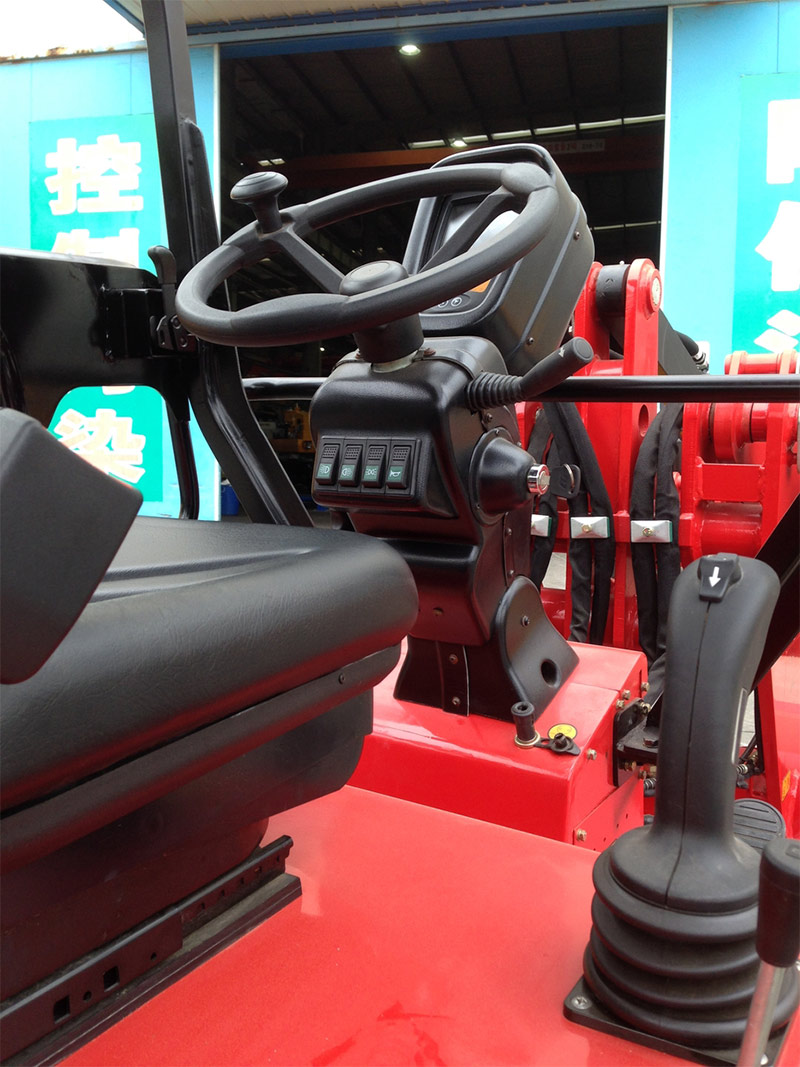 Details-2
Wider visual field.
Application and after-sales service
LT906  mini wheel loader is more suitable for infrastructure construction, industrial applications, terminal loading and unloading, urban streets, houses, barns, barns, airport runways, etc., and can also be used as auxiliary equipment for large-scale construction machinery.